Rob Barnard
by Janet Koplos
Published in Ichi No Ichi, Summer 1992
It's a long drive from Washington, D.C., to Timberville, Virginia-first on major interstate highways, then on rural two-lane roads, then on a narrower country road that meanders past farmland and through an apple orchard. The pavement turns to gravel, and finally the gravel yields to a pair of winding lines of bald earth separated by manes of grass. This track, jolting over small outcroppings of stone, leads through woods to Rob Barnard's house and pottery in the Shenandoah Valley of the Appalachian Mountain range.
It's an equally long and twisting path that Barnard has followed in his own life, from his boyhood in the state of Kentucky, through three years in a seminary studying for the Roman Catholic priesthood, service with a U.S. Marines reconnaissance unit in Vietnam, and four years of ceramics study and practice in Japan--before setting up his studio and kiln in Timberville and becoming known, in U.S. ceramic circles, as an intense and articulate artist indelibly colored by his Japanese experience. In some ways, his path is inexplicable. Pottery was completely foreign to his upbringing. When he stumbled across ceramics at the University of Kentucky at age 21, he had never in his life set foot in a museum. Yet in no time at all he had decided that he wanted to make functional pottery and to study in a place where pottery was taken as seriously as he took it. That place was Japan. But how was a Kentucky kid to get there? Barnard pursued every channel he could, and in 1974 he was accepted as a student at the Kyoto City University of the Fine Arts. Like innocents, Barnard and his wife, Lynn, plunged into Japanese life, and somehow luck was with them. In less than a year they were living in a little house in Domura, near Shigaraki, Barnard was building his first wood-fired kiln [images below], and he had established relationships with three mentors who acted, he says, almost as father, uncle and brother.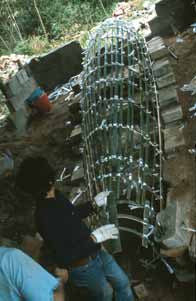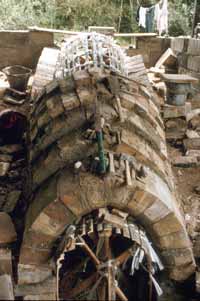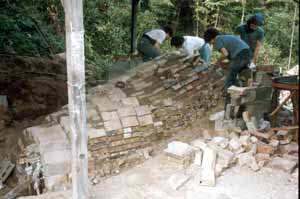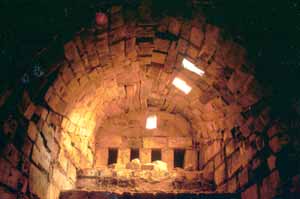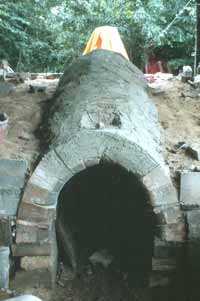 Kiln Construction in Domura
The "father" was the contemporary sculptor Yagi Kazuo, then chairman of the ceramics department at the art school; the "uncle" was Kondo Yutaka of the school; the "brother" was the potter Otani Shiro. Kondo was instrumental in finding the house; Otani showed him how to split bamboo to frame the kiln, and introduced him to someone who donated the bricks with which to build it. And in a more general sense, Otani showed him how to be a potter, Barnard says. Yagi was his philosophical guide. Their relationship was unusual. Yagi spoke no English, and Barnard says his own Japanese was like baby talk; they communicated through any handy interpreter, through simple words, through signs and other unspoken means of understanding. Barnard describes Yagi as stern, sharp-tongued, frowning. He was the father of modern ceramics in Japan--yet Barnard was pursuing pottery. When Yagi saw an Iga-style vase Barnard had made, he spoke of the pretense of pottery and told Barnard that there was no need for anyone to make useful things by hand. Barnard came to realize that Yagi felt that functional ware was the core of ceramic art but that the modern pottery field was too narrow and most work was trite and predictable. Yagi said there was no reason to make over what Kenzan ( 1663-1713) had already done; if you were not going to add to or challenge the tradition, you should quit. The important thing, Yagi would assert, is not one's lineage, clay or kiln but what one thinks.
After three years at the school and one year of private study with Yagi, Barnard returned to the U.S. in 1978, where he faced an entirely new situation: ceramics was found only in the university system or in art fairs. There was no tradition of criticism and no sense of roots. Barnard tends to see his time since Japan as unpunctuated, anticlimactic. But of course that's not true. In 1978 he received a crafts fellowship from the National Endowment for the Arts (NEA), a government arts-support program. The Barnards moved to nine acres of land in Timberville in 1979 and built a pottery and an 18-foot-long anagama kiln (a Japanese-style climbing kiln). In 1982 he had the first of what has become a yearly show of his pottery at the Anton Gallery in Washington, D.C., and the following year he was a panelist for a program on woodfired ceramics at the Japan Society in New York City that was the first of many such public appearances. He returned to Japan for shows in 1984, '89 and '91; he exhibits at Meitetsu Department Store in Nagoya as well as in galleries.
And in 1982 he began to write. His first published article, about wood firing, appeared in Studio Potter magazine. In '83 he began to write for the New Art Examiner, a monthly art magazine then based in Washington, D.C. He has also written reviews, interviews and essays for the magazine of the American Crafts Council and many other publications, but he is particularly identified with the Examiner, for which he is ceramics editor. In all his writing, Barnard is a passionate advocate of ideas and a foe of sentimentality and clichés.
U.S. potters tend to think that his work shows a Japanese influence, because of his preference for austere brown surfaces glazed only by the natural fall of ash in the wood kiln (although some recent works are treated with white slip). The general understatement of his work seems rather Japanese. Yet, in fact, his forms are often quite un-Japanese. The real instance of Japanese influences is in his thinking: it's the legacy of Yagi. Barnard advocates imperfection, saying it expands thinking and allows room for progress. He echoes Yagi's belief that an artist must know why he or she is doing something. Now such ideas are not just Yagi's, they're quintessential Barnard: he's known for being argumentative, demanding explanations, insisting that intuition only goes so far. Every potter has to decide on his relationship to his culture. Barnard wanted his pottery to be shown in art galleries and taken as seriously as painting is. With Japan as a model, he knew it could be. But he realized that he would have to create the situation he wanted. Barnard laughingly regards his mere survival as a measure of success. And his efforts were rewarded when, in 1990, he was again awarded a fellowship by the National Endowment for the Arts--this time the top 20,000 dollars award that almost never goes to functional ceramics.