Many artists have been quoted, articulately describing how making art is like being a child again. In organizing this exhibit I feel that child-like quality of parallel play. I have seen what each artist is doing and as I work in my studio I do so in a parallel way but in a different form. Each of the artists in this exhibit has a relationship with Red Dirt Studio. In reviewing each artist's proposal I have gained insight into the beauty of how my co-curator, Margaret Boozer, has forged and guided the Red Dirt seminar. For the involved artists, it is a motivating intersection of roundtable inspiration, incubator, and launching pad. These retorts to expectations of permanence should challenge and intrigue the viewer with the variety of offered solutions.
The last group exhibit Margaret and I worked upon together was the exhibit Coming Home in the Stancills clay mine north of Baltimore. This exhibition for the 2008 NCECA convention in Pittsburg is made possible by the generous provision of space by Standard Ceramic Supply in what is normally a room for slip casting--where the formless becomes solid. From clay mine to industrial production, an evolutionary stepping stone for another clay focused show.
In this exhibit my two pieces intersect my pursuits in drawing. Broom Stroke is a momentary alignment of plates corresponding to the original stroke through wet slip on a sequence of clay slabs. As plates, once used they may—or may not—go back into the vertical rack in the same order.
Shard Shadows literally expresses the intersection of drawing and pottery. These plates, formed from larger bowls struggling with slip-caused rim cracks, are resurrections and remnants rotated into the repertoire of use.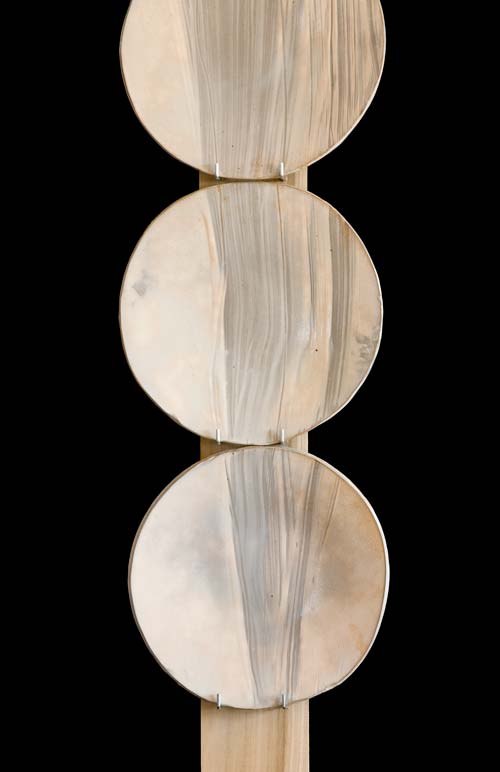 Catherine White
Broom Stroke (detail), 2007
Stoneware, white slip, celadon glaze, 6 plates mounted on tulip poplar plank
Plates: 12" x 1" Plank: 8'x 5"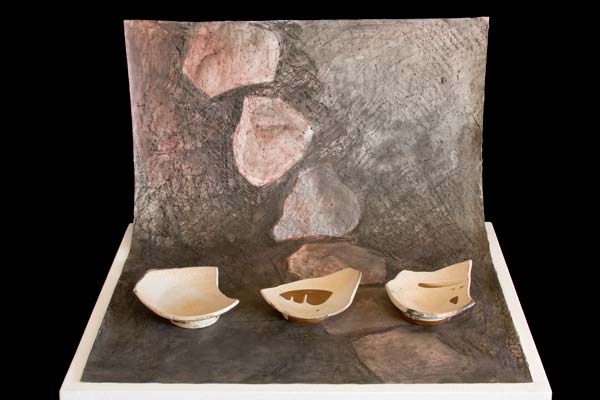 Catherine White
Shard Shadows, 2008
Stoneware, white slip, celadon glaze; Drawing : graphite and red clay
Plates: 4" x 1.5" Drawing: 22" x 30"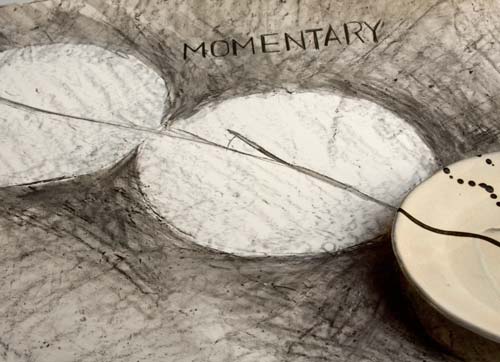 Catherine White
Momentary, 2008
Stoneware, white slip, black brushwork, celadon glaze; Drawing : graphite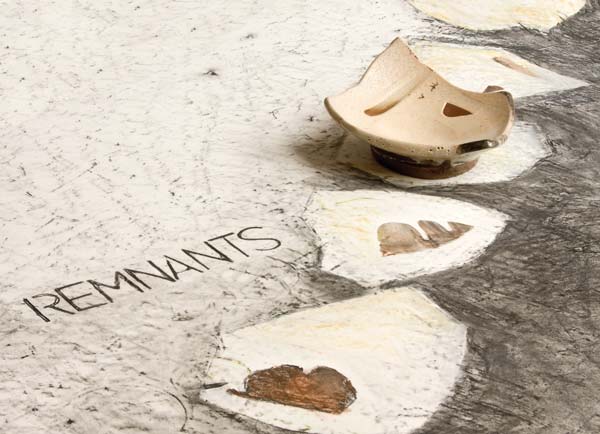 Catherine White
Remnants, 2008
Stoneware, white slip, celadon glaze; Drawing : red clay, graphite